Group Events
Whether it's for a social or business group, we have a beautiful space to hold your event! Our studio is the only one in the Sacramento region that is family friendly and can host a group with just adults, or with both adults and kids (ages 8+) without restrictions on enjoying a glass of wine or beer! We also have a fabulous menu to help complete your event with a nice selection of food and beverage.
Group rates:
2 hour painting class $28/person
3 hour painting class $38/person
Wood Signs $32 to $55/person (depending on choice of sign)
Open Studio $15 to $45/person (depending on choice of project)
Private Event Minimums:
Friday or Saturday Evenings beginning at 3pm or later (2 hour class only)
$700 minimum covers up to 25 people
Any other time $420 (2 hour class) or $570 (3 hour), covers up to 15 people
Maximum Class Size 60 people and Venue Capacity is 140 People Total
Ample free parking
Patio available
Easy access at the Highway 80 / 65 exit near the Roseville Galleria
Please contact us with your request on the Contact Form below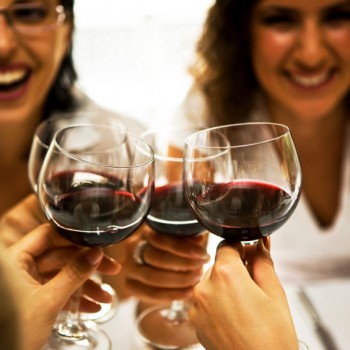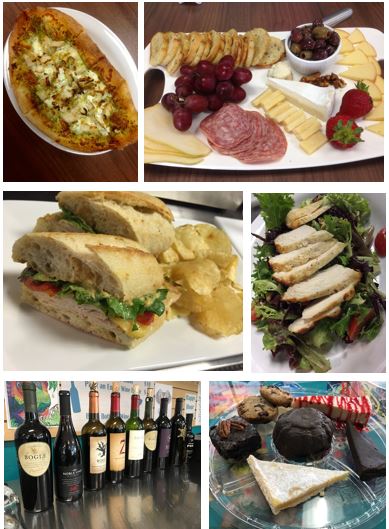 Food & Beverage
The Art Bistro's motto is EAT-DRINK-CREATE and offers a fabulous menu to select from to provide a full event experience to include food and beverage! You may have your guests order individual meals from our menu or choose to offer a buffet with a variety of menu options to sample.

In addition to delicious food options, we offer a nice selection of wines, beer, hard lemonades, cider, soft drinks and our popular spritzer special.

Larger groups often order from our Party Sized Menu to provide guests with a variety of options to choose from to sample. Choose from gourmet sandwiches, pizzas, salads, and artisan cheese platters.Toward the end of your painting class a dessert sampler is always a hit!

We're happy to assist you with putting together a menu to accommodate your group size and budget.
Team Building and Client Appreciation
Invest in your team or treat your valued clients with a fun bonding experience
Guided painting classes
Wood Signs
Open Studio (many projects to choose from)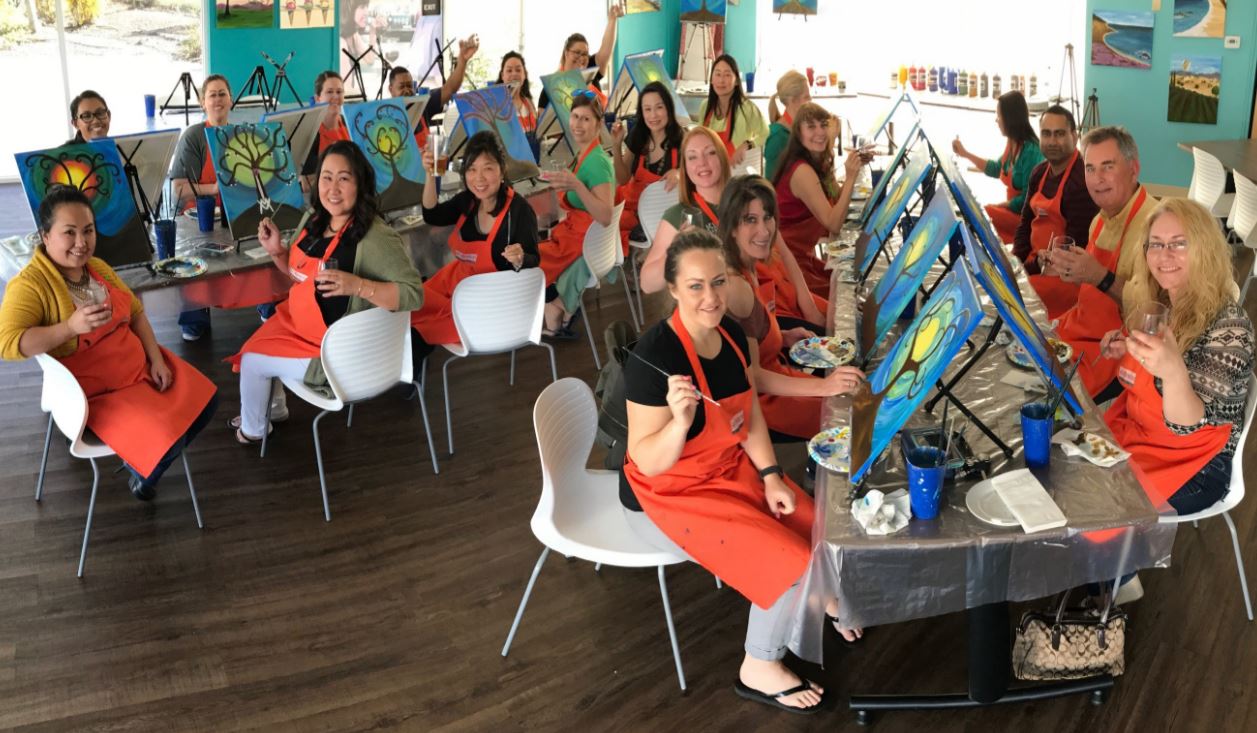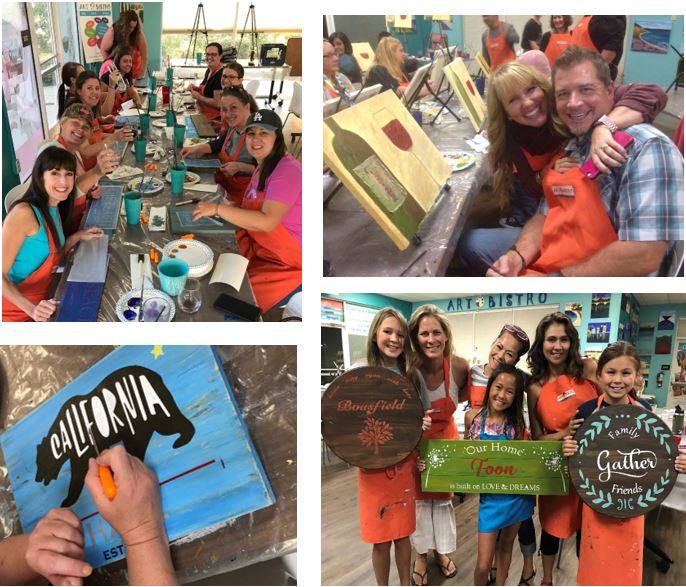 Parties & Celebrations
Plan your birthday, holiday gathering, bridal shower or bachelorette party for a fun and creative twist! Whether it's an adult only group or a family group of kids and adults, it's sure to be a lot of fun and a huge success!

You choose the featured painting for your private event and are eligible for our group event special pricing when you meet our group minimums!

Don't have a large enough group for a Private Party?

If you'd like it to be private you may pay our minimum event fee for a smaller group, or you may choose a scheduled class to attend as a group and we'll seat you all together! You can even choose the painting if we don't have anyone registered yet for your date/time. With a group of 8+ we may also be able to add a class to our open calendar for you and allow others to join. Just let us know about your group and we'll work with you to find an awesome solution!
Kid's Birthday & Team Parties
Our Kid's Parties are always a hit! Great for Birthdays, Clubs and Teams to get out together for some creative fun! These 90 minute parties include a guided painting class, pizza and soft drinks.
Ages 8+
12x16 Canvas Panel Event Minimum $225
12x16 Stretched Canvas Event Minimum $275
Our minimum party cost covers up to 10 people and additional people may be added at $22.50 (Canvas Panel)/27.50 (Stretched Canvas) each. We can accomodate up to 60 people for an event.
Have a smaller group? You can choose to celebrate in our Open Studio where there are many projects to choose from.
Please visit our Kids Parties page for more information
Kids Parties Page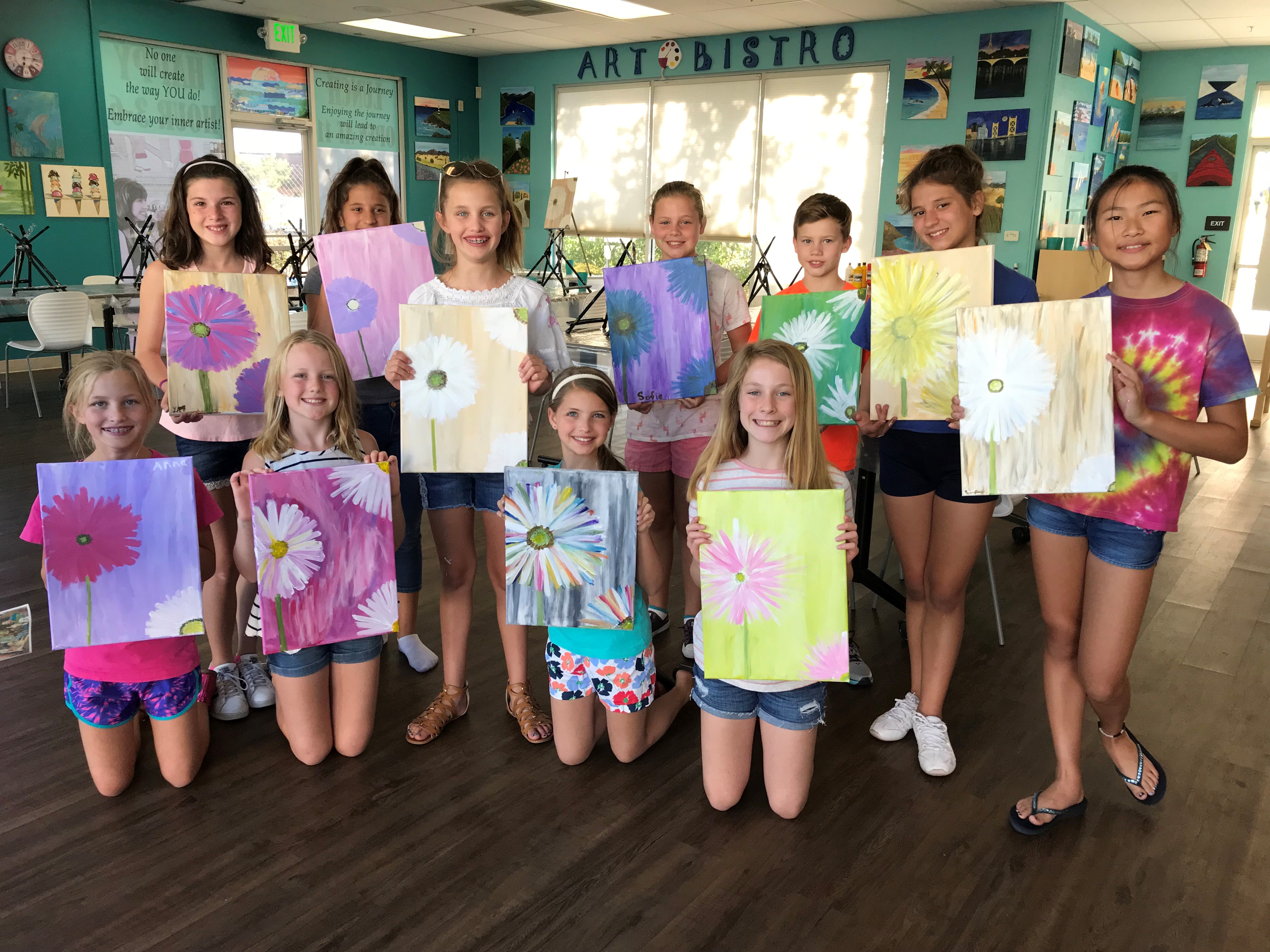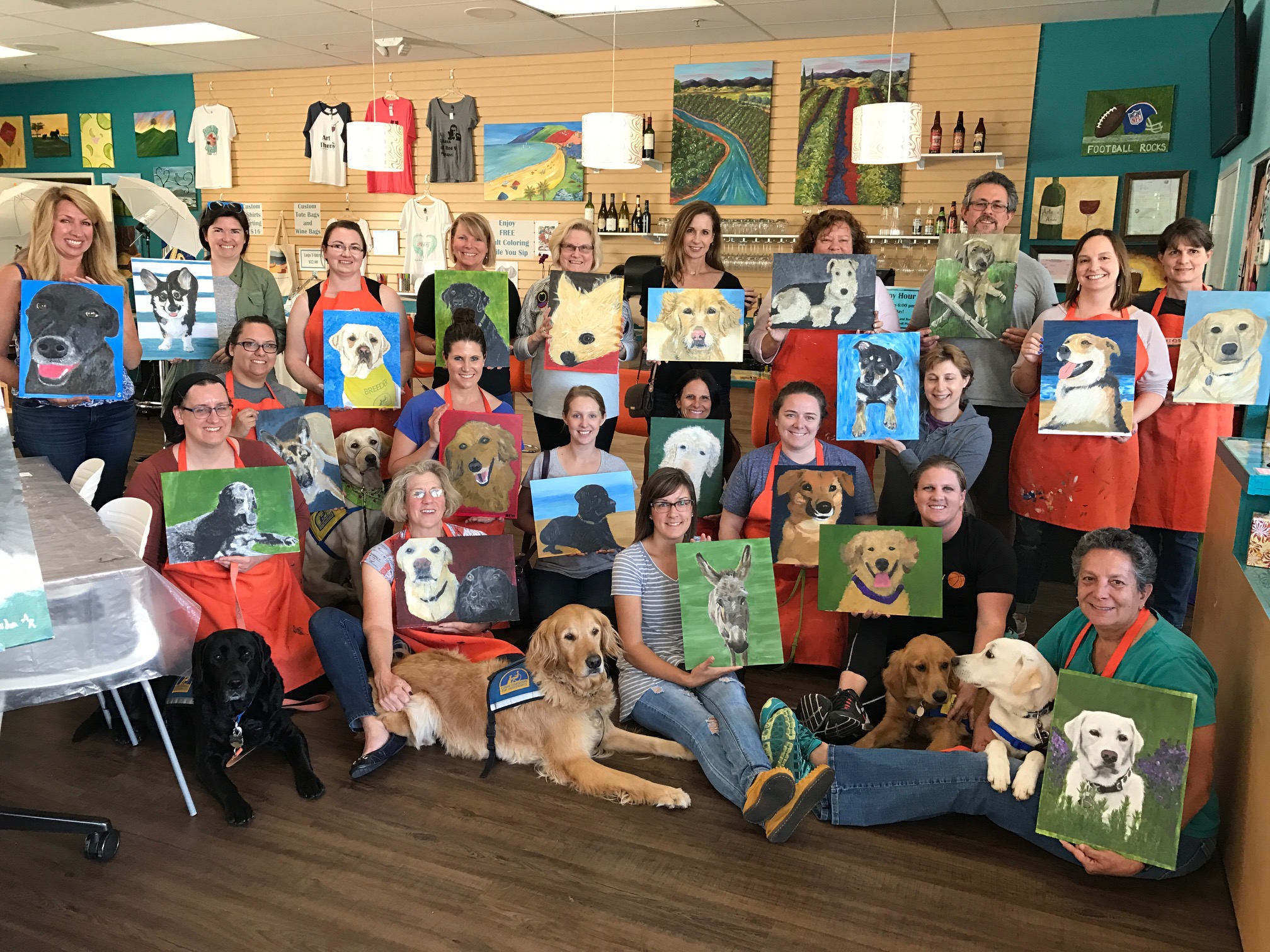 Fundraisers
It's at the heart of our business to give back to our community. We welcome non-profits and schools to organize a fundraising event at The Art Bistro.
There is a 25 person minimum to quailify for the fundraising discount. We provide a discount / donation as follows:
25 - 40 people - 25% discount / donation
41 - 60 people - 30% discount / donation
We also provide a 10% discount on food and beverages
Over the years we have helped many rescue groups with our popular Paint Your Pet events
Off Site Events
Perhaps you're not able to come to The Art Bistro for your event, or would like us to come to a special place you'd like to hold your private event. We're happy to accomodate you!
Off Site Event Minimums:
$675 covers up to 15 people (within 15 miles one way of The Art Bistro) $45/person
$1125 covers up to 25 people (more than 15 miles one way of The Art Bistro up to 30 miles) $45/person
$100 Travel/Set Up/Clean Up Fee
Additional guests are at the rate of $45 per person up to 40 guests, and $30 per person over 40.
Paint Your Pet Event rates incur an additional fee